The Worthy Walk with Tim Armstrong
Saturday Mornings,  11:30am-Noon
Click Here to Visit The Worthy Walk
Senior Pastor Tim Armstrong earned an undergraduate degree in pre-seminary studies at Cedarville University and a graduate degree in theology at Dallas Theological Seminary. Tim is a prolific teacher who has been preaching for over two decades in north central and northeastern Ohio. He and his wife, Michelle, were married in 1991 and have twin daughters, McKenna and Isabelle and a son, Jack. Tim is an avid cyclist, skier & hunter.
For more than 80 years, The Chapel has been a historic, Christ-centered church in Akron, Ohio. Senior Pastor Tim Armstrong teaches verse by verse through the Scriptures. His radio program is broadcast around the country impacting lives with encouraging messages that help people to know Christ.
Dig deep into the Bible and get answers for today's modern world on "The Worthy Walk." Explore the Word of God, verse by verse, and be encouraged as you come to more fully know Christ and His plan for your life.
If you would like to donate to "The Worthy Walk," click the link below to give online or mail to
"The Worthy Walk," PO Box 1262, Akron, Ohio 44309.
We'd love to send you a free copy of Pastor Tim's book, "The Message of Habakkuk – When Your Circumstances Challenge the Promises of God" simply by letting us know you are a first-time listener!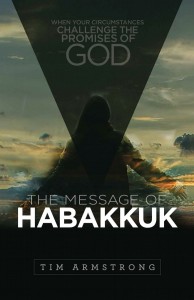 Feel free to give us a call at 844.844.1262. You can write us at "The Worthy Walk," PO Box 1262, Akron, Ohio 44309. You can also send an email to
[email protected]
.